K-12 Services
Radixos is a qualified consultant that oversees the planning, acquisition, logistical staging and installation of furniture, fixtures and equipment (FF&E) items. This allows School Districts the expertise of a firm who can manage the needs of the District with dedicated resources to ensure timely acquisition, receipt and installation of the FF&E components.
While working with District staff, Radixos seeks to create a sense of place that will enhance teaching and learning. The FF&E a school selects is the final piece in the capital improvement puzzle. The right choices can provide comfort, function and aesthetics that enhance the space. Each school is unique and the FF&E varies as the educational philosophy and staff preferences differ. Selecting a superior FF&E product with Radixos will save operational costs upfront and maintenance costs in the future.
Pre-Design Phase Services
Work closely with applicable District officials and designated parties in assessing specific needs within District standards
Define specific needs

Delivery and installation schedules
Room by room installation plan
Inventory analysis of existing furniture usable and surplus items

Develop schedule that demonstrates the ability to meet time restraints related to overall completion
Conduct detailed inventories and assessments of existing assets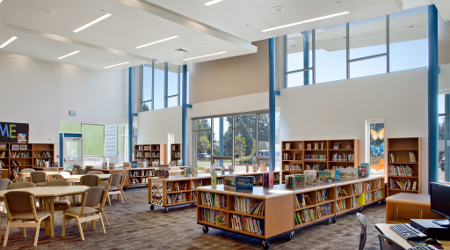 Radixos has provided full furniture, fixtures and equipment (FF&E) consultation services for 8 School Districts on over 30 new and renovated schools in Washington State.
Design Phase Services
Provide budget estimates
Review design documents in phases, provide updated specifications
Package products for Board approval, prepare bid invitations
Provide layouts for FF&E for incorporation into design and bid documents
Bid Phase Services
Prepare and verify that documents are ready for bid. Prepare detailed timelines which are specific to ordering, receipt and installation, and of warehousing
Work with the District staff to verify adequate materials and supplies are available.
Call Vendors to solicit bids
Coordinate activities with District Procurement staff
Present a disaster recovery plan which details additional resources which will be required to meet District needs in the event of an unforeseen event
Update District on schedule and provide information on deviations from project / construction plans
Move-In Phase Services
Scheduling - Sequence timing of activities starting from 6-10 weeks prior to teacher return
Freight Management and Transportation - Control the timely release of Vendor shipments, track compliance with "ship by" dates
Local Receiving and Warehouse Strategy - Schedule receipts to coordinate with dock, handling equipment and staff and building availability
Stage FF&E by area to coincide with installation schedule
Coordination and assistance to communications contractors, network contractors and District facilities staff
Coordination with commissioning activities on equipment test runs, warranties and training
Collect, organize, and when available, turnover FF&E Operations and Maintenance (O&M) manuals to District facilities
Facilitate dissemination of FF&E sources used for project, pricing and other data to provide continuity of product, service and deliveries on an on-going basis